Innovation and development towards a more knowledge based economy is vital for the creation of jobs, for fighting poverty and 
instituting favorable conditions for sustainable growth. 
Clusters, triple helix collaboration and innovation systems are 
established components to support innovation. In order to support research and innovation there is a need to develop processes and infrastructure, where knowledge development at universities is linked to society and industry in joint collaboration.
The use of leading examples and best practices globally and in developing economies is important to support the development of structures for the production of knowledge and R&I in collaboration between university, industry and government. The collaboration with SICD will give partners access to leading experiences of cluster development, triple helix cooperation and innovation systems for decent work, social development
 and sustainable growth.
An innovation system is a network of organisations, people and rules as a framework for the creation, dissemination and innovative exploitation of technology and knowledge. This system approach for renewal and innovation is important as it puts focus both on the mobilisation of resources to support innovation as well as on the formation and strengthening of linkages between different actors from a systematic perspective.
Example 
In Bolivia the SICD team has so far collaborated and supported an intertwined double process – cluster development in sectors of food and leather production as well as development of an innovation system in the Cochabamba (CBBA) region. This is one concrete example of a bottom up support for an infrastructure supporting an innovations system in a context sensitive development process.
The innovation system in Cochabamba region can be exemplified as in the following figures – from 2012 and presently towards the strategically more developed.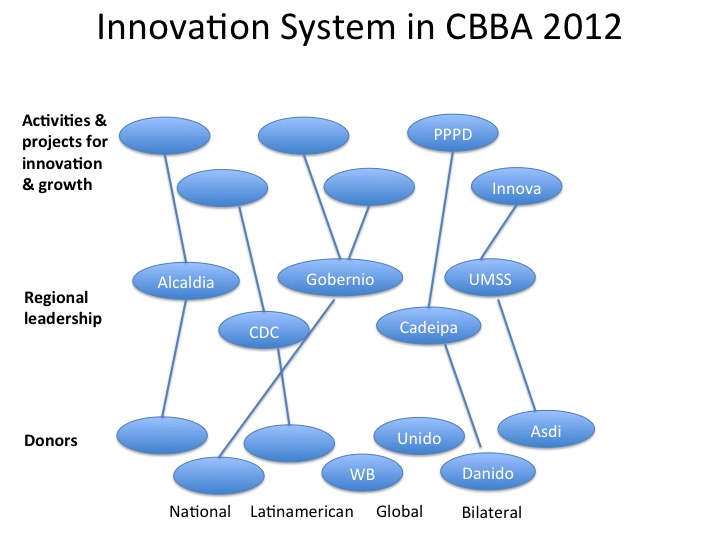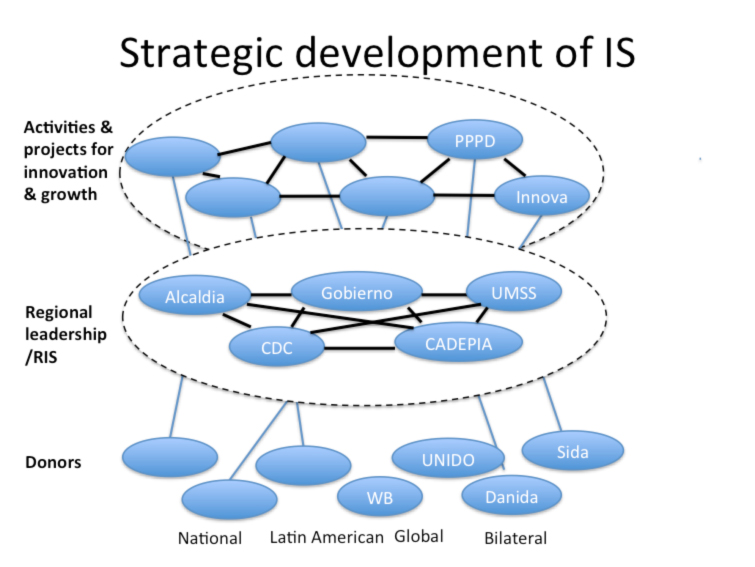 SICD strategic process support in general is focused on the following
Approach: Knowledge based practical support to implementation of innovation and cluster based strategies for sustainable growth
Services on:
–      Policy development
–      System/platform building
–      Support to initiatives
Policy development
Support in building structures and institutions
Coaching and expertise to managers and units in development and implementation
System and platform building
Support in building structures and institutions
Support in strengthening regional leadership
Coaching and expertise to managers and units in development and implementation
Support to initiatives
Participating in activities to support cluster development
Coaching and expert support to cluster process leaders
Support to strategic development with process leaders and advisory board